Tourism is an industry which is susceptible to external shocks. None know this better than the owners of Rodney's Wellness Retreat (RWR), a nature lovers' sanctuary tucked away on 4.6 acres of an ex-lime farming estate just outside the idyllic village of Soufriere, Dominica.
Managing Director of the Retreat, Lucilla Lewis said the former lime estate was once the economic lifeblood of its neighboring villages, but that came to an abrupt halt with the passage of Hurricane Maria in September 2017 and again in 2020, now that the world is battling the highly contagious COVID-19.
Having successfully rebuilt after the category five hurricane, Ms. Lewis believes RWR will also bounce back from the fallout caused by the pandemic.
Rebuilding after Hurricane Maria
From June 1st to November 30th annually, hurricanes plague the Caribbean. They lash the tiny islands with catastrophic rains and winds, often leaving a trail of death and devastation.
In 2017, Ms. Lewis and her siblings, who manage RWR, faced this reality.  In an effort to rebuild and see the area thriving again, they opted to take a Direct Assistance Grant from the Caribbean Export Development Agency. 
Ms. Lewis credits the grant with enhancing the resilience of the company. According to her it ensured that prior to COVID-19, RWR could offer the unique services of its Big Banana Campground, Kanawa Restaurant and Mayan Bar, CarRod's Gardens and CarRod's Cottages.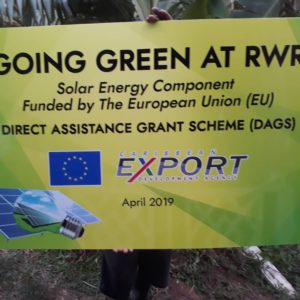 Our reconstruction plan included rainwater harvesting, solar energy supply, and the composting of waste. With grant finance support from Caribbean Export, a solar energy system was commissioned at RWR in March of 2019.  Since then one of our significant recurrent expense items the monthly electricity bill paid to Dominica Electricity Services (DOMLEC) – has been eliminated! The augurs well for business viability going forward, she said.
Focus on rebuilding and sharing the wealth
The owners implemented a procurement policy aimed at boosting the economic fortunes of the surrounding districts. RWR procured goods and services, such as vegetables, fruits, fresh fish, hair braiding and small boat rowing, from nearby villages before going elsewhere.
RWR, though a privately-owned business, is driven by a vision to restore economic viability to the Parish of St Mark, while generating a fair return on investments to its owners, the Managing Director said.
Packaging RWR's tourism product
Ms. Lewis added that RWR had also successfully packaged the story of the rise and decline of the economic fortunes of the area, which is linked to the rise and fall of the Dominican lime industry, as one of its most popular tours offered to visitors.
This riveting story includes the decision by Ms. Lewis' father, the late Rodney Lewis, a tropical agriculturalist by profession, to re-cultivate the land and to produce a variety of crops, including limes, as his retirement hobby.  Lucilla Lewis pointed out that the Direct Assistance Grant was instrumental in expanding her father's vision. 
She noted that prior to the passage of Hurricane Maria, the Caribbean Export Development Agency had assisted the business with training and networking opportunities.  She added that with the grant, they were able to implement a Quick Book interfaced Point of Sale system, which improved their system of operation. The operational efficiency enhancements which resulted at RWR were remarkable! she enthused.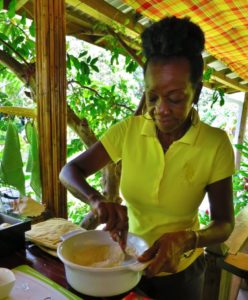 RWR expects strong recovery after combating COVID-19
Once again in 2020, the operations of RWR were brought to a screeching halt but this time due to the COVID-19 pandemic. The farm-converted-tourism enterprise began to feel the effects of the infectious virus when guests started to cancel their trips.
COVID-19 has left us with no income stream as we have been totally closed since March 12, the managing director revealed.
We were forced to close before the official closure of Dominica's borders as most of our upcoming reservations were from Europe and with the soaring infection rates in European cities at the time, our would-be guests were very gracious to indicate that they were going to cancel, she said, adding that RWR was able to pay its staff for the entire month of March but could not for April.
During the downtime, Ms. Lewis and her siblings have been focusing on expanding the retreat's cultivation of fruits and vegetables. RWR, which is a farm-to-table retreat, promotes the use of on-site products in its kitchen. So far, they have harvested sweet peppers, tomatoes, eggplants and fruits.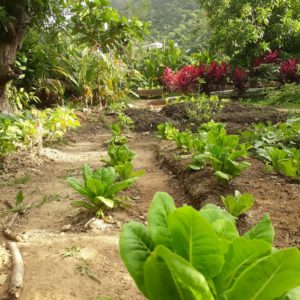 They also registered to participate in the Backyard Gardening project, a post COVID-19 food security adaptation strategy launched by the Government of Dominica.
While this program augurs well for self-sufficiency it may limit the scope for sale of excess production in the domestic market, she observed.
However, going forward Ms. Lewis anticipates a strong recovery after COVID-19. She said RWR intends to cater to the domestic market when local curfews and restrictions are lifted, before cautiously reopening to the world.      
RWR offers nature and green spaces away from the trodden path. Its uncrowded and has an open dining room and scope for setting up dining anywhere on the grounds. We expect strong recovery immediately after European travelers are comfortable with airline and destination safety protocols, but in the short to medium term, we plan to target regional markets, she said, pointing out that RWR will be upgrading its hygiene and cleaning procedures prior to reopening.
Having rebuilt after Hurricane Maria, and currently navigating the COVID-19 pandemic, Lucilla has learnt that patience is key to success. We have become more convinced that the RWR model, in terms of our product and service, is a winning one but it requires patience. We think that the offer will be in high demand in the post COVID tourism market, Ms. Lewis predicted.