Hot sauce (also known as pepper sauce) is a staple in restaurants and homes across the Caribbean – as essential as ketchup or brown sauce to British households, or barbeque sauce and mayonnaise to Americans.
Caribbean hot sauce goes with almost everything and there are several brands in the region that have taken this product to new heights and are now exporting it to eager international customers.
A growing appetite for innovative and bold flavours has led to a steady year-round interest in hot, spicy, and peppery sauces especially from younger consumers around the world.
In fact, at the recently held 66th Summer Fancy Food Show which is hosted by the American-based Specialty Food Association (SFA), a Trendspotter Panel labelled peppers a top trend for 2022 with peppers and traditional pepper sauces and condiments from around the world continuing to be prominent.
Research by the Imarc Group has projected the global hot sauce market will reach $6.4 billion (US) by 2027, with a compound annual growth rate of 5.4% (2022-2027).
In the UK alone, the Caribbean sauces and condiments market grew by 16.8% between 2019 and 2020 to be worth £1.12bn, according to Caribbean Export's 'Absolutely Caribbean' report. The same report (quoting Euromonitor) found this demand for hot sauces continuing all over Europe with German, Spanish, and Dutch consumers also looking for similar products with a tangy bite.
The Caribbean is well known for its linkages to hot sauce as a long-time producer and exporter of fresh peppers.
Scotch Bonnet was originally cultivated by the Taino Indians and is now the Caribbean's primary commercial pepper variety after going through a process of repeated refinement based on elements such as flavour, pungency, aroma, yield and disease and pest tolerance.
With a rating of 100,000-350,000 Scoville heat units, the scotch bonnet can be up to 40 times hotter than a typical jalapeño pepper. It has high levels of capsaicin, along with most B vitamins, vitamin A, vitamin C, vitamin K, copper, magnesium, iron, and potassium and has been touted as beneficial for pain relief, arthritis, congestion and even to combat migraines.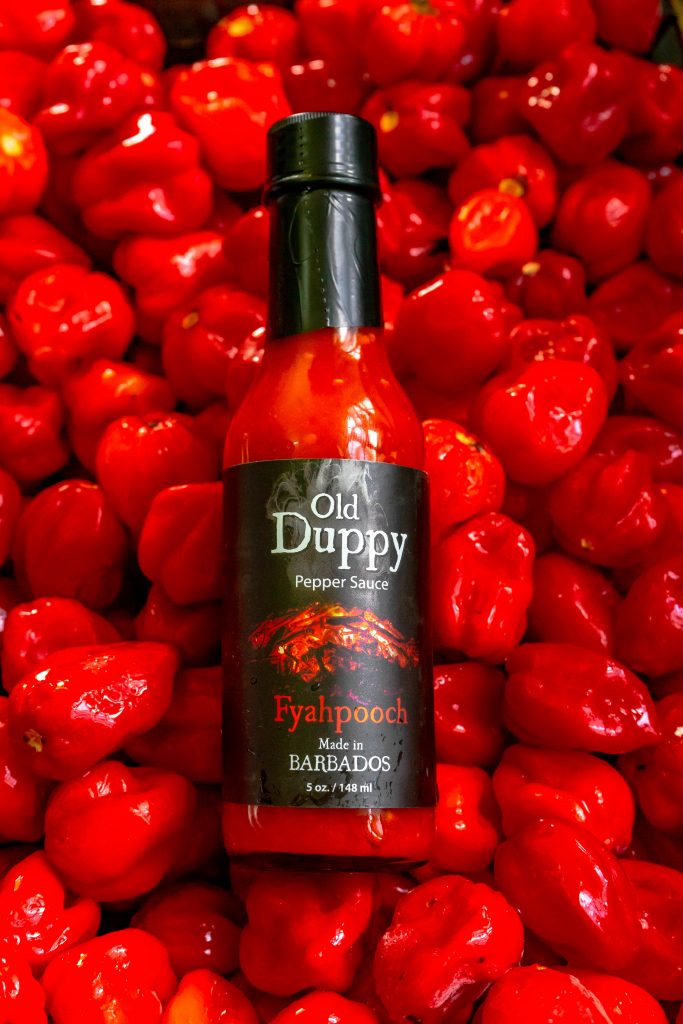 Many of the Caribbean's small to medium-sized pepper sauce producers have been selling their hot sauces to the discerning local market for many years. In some cases, these manufacturers utilise highly prized, secret formulas that have been handed down from generation to generation.
Recipes traditionally feature Scotch Bonnet or Habanero peppers, salt, garlic, spices, mustard, and vinegar, along with various other additions.
Producers also take full advantage of the Caribbean's tropical climate, which is ideal for growing the indigenous main ingredient, to experiment with other flavours which complement Scotch Bonnet peppers such as guava, pineapple, coconut, papaya, and mango.
'Old Duppy' pepper sauce is produced in Barbados by creator and chef Nick Bynoe. It's a relatively new kind on the block when it comes to Caribbean pepper sauce brands but has already attracted attention because of its wide array of options which appeal to genuine heat lovers and those with slightly milder tastes. It is also small batch, organic, and free of preservatives.
"We wanted to bring something bold and innovative to the market which represented authentic Barbadian and Caribbean flavours. Sourcing ingredients from local farmers and producers, we enhance our sauces with real wood smoked peppers to provide a truly unique experience. We are burning with excitement to showcase our brand and hauntingly flavourful sauces to the UK market" shared Bynoe.
Old Duppy uses real wood smoked peppers as a base and then adds locally grown fresh fruits, herbs, and spices to elevate the flavour profile. From very mild to very hot, five pepper sauces form the permanent lineup – Zesty Jalapeno, Fiery Pineapple, Pepper Punch, The Traditional, and Fyahpooch, with the fan favourite, Mango Fever, released seasonally every summer.
Other products available under the 'Old Duppy' brand name include Tamarind Sauce, BBQ Sauce, Vex Vinegar, a Bajan Ganoush dip, and Chili Oil.
Old Duppy will be on show at the Speciality & Fine Food Fair from September 5th-6th 2022 at Olympia, London as part of the Absolutely Caribbean pavilion, a group of micro enterprises supported by the European Union and the Caribbean Export Development Agency, a regional trade and investment promotion organisation.
Attendees will get to sample the various hot sauces and see why Old Duppy has become so popular with locals and tourists looking for an authentic taste of the Caribbean.
Authenticity and originality are qualities that consumers admire and, along with the essence of a product, contribute to the long-term success and appeal of a brand.
Old Duppy has these attributes and more and that's why many people are attracted to its versions of Caribbean pepper sauce.