The Covid-19 pandemic has significantly changed the world as we know it. Job losses, declining revenue and closed market opportunities have become the reality of firms around the world. Caribbean companies, not exempted, now have a new storm to weather. One silver lining, however, is that the global pandemic has created new business opportunities. With changing customer behaviours and needs, firms must now examine new market trends to strategically re-position themselves to meet them.
Hygiene and Sanitization Products
With heightened consumer demand for clean and safe spaces, opportunities will continue to abound in the hygiene/sanitization sector. It is no surprise that manufacturers of cleaning products have witnessed a spike in sales. The CEO of Clorox has reported a 500% increase[1] in demand since the start of the year, and we recently heard how Trinidad and Tobago based manufacturer Chem Clean has also experienced an upsurge as households and businesses settle into new disinfecting routines.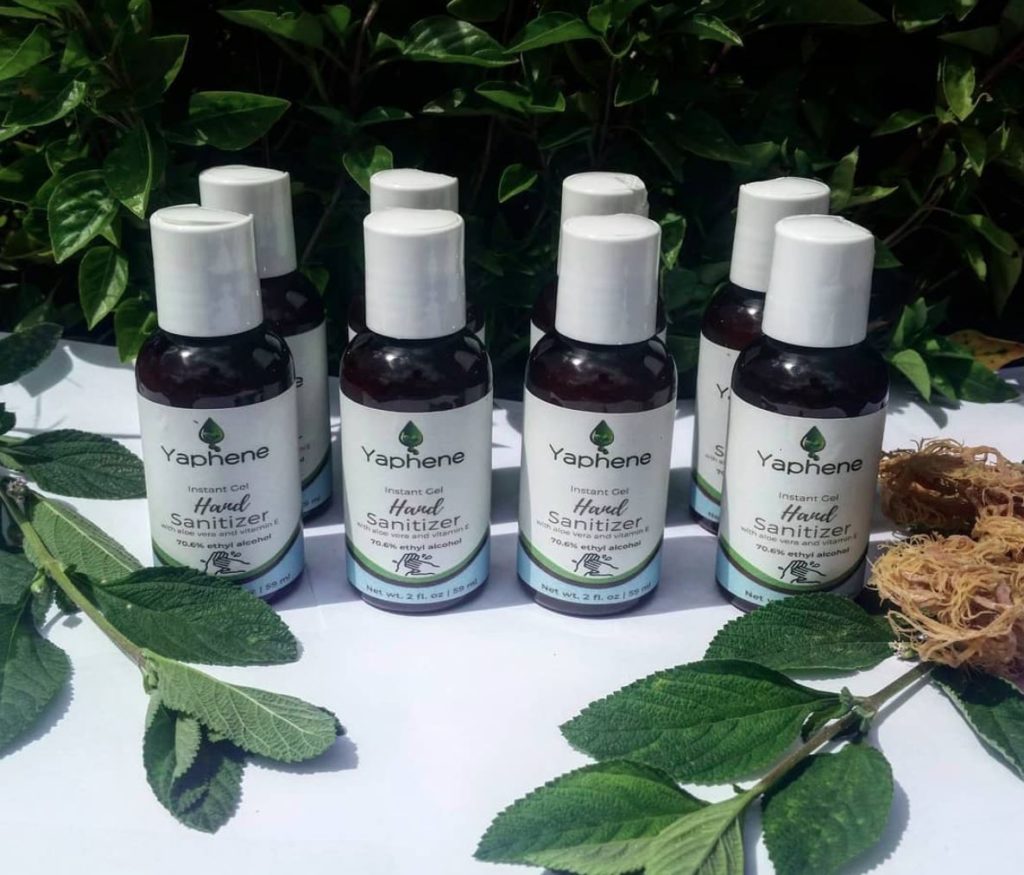 However, these opportunities are not restricted solely to chemical producers. For example, Caribbean Health and Wellness firms like Sugartown Organics in St. Kitts & Nevis and numerous regional distilleries- members of WIRSPA have already begun to produce hand sanitizers. Experts agree that the tourism industry, upon which many CARIFORUM countries depend, will be under pressure to deliver a beyond clean experience thereby amplifying this opportunity.
Information Technology Services
Covid-19 has forced consumers online with telecommuting, virtual classes, and online shopping becoming the new norm. This presents the opportune time for service providers like IT professionals, digital marketers, and app developers to support firms in strengthening their online presence which can positively impact exports. Remote working will push companies to invest more in IT, cloud, and cyber-security services. Opportunities also exist for Caribbean app developers to create apps that help businesses to fulfill delivery orders much like Instacart and UberEats does for the American market. Across the region there are several examples of companies offering digital payment options such as Trinidadian firm WiPay, which recently launched in Barbados and Barbadian company, mMoney both of which help companies and customers with cashless transfers.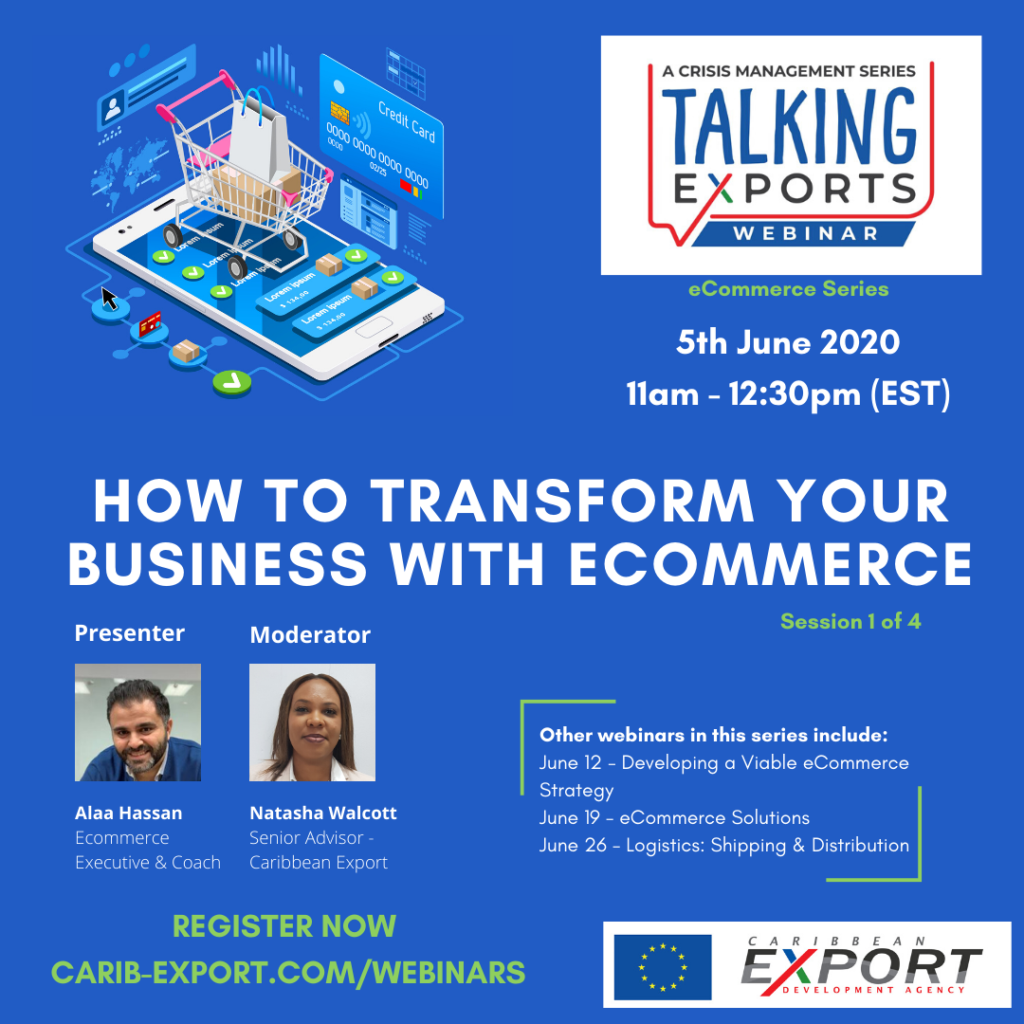 The CEO of IT giant, Box, recently stated in an interview that the amount of business transformation from a technology standpoint over the next few months will be completely unparalleled to any other time in history.[2] Could Amazon's planned workforce expansion (100,000 new hires) during this period indicate that this trend is likely to continue?[3] Despite the persistent challenges that have slowed down the development of e-commerce in the Caribbean, the expansion of WiPay outside of Trinidad and Tobago during Covid-19 shows that the tide may be turning.
Immunity Boosting Foods, Beverages and Nutraceuticals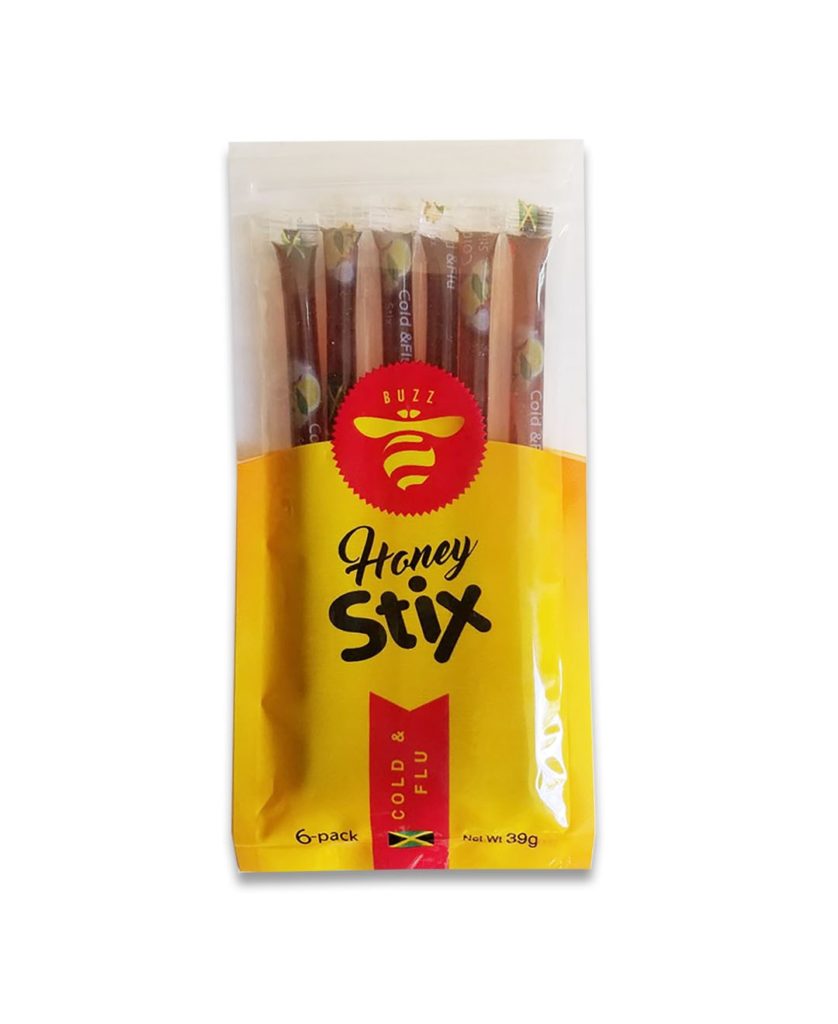 Caribbean agro-processors offering natural immunity boosting products can benefit during the pandemic. Widely accepted Caribbean staples like ginger and turmeric are some of the foods that are known to strengthen immunity. Jamaica is revitalising its ginger industry valued at just under $1 million USD in 2019 while CARICOM trade in turmeric is valued at approximately $1.07 million USD[4]. As the world grapples with staying healthy, there are sectoral opportunities for value-added products. For example, Ecofarms in Jamaica has since launched its line of Cold & Flu HoneyStix. Nutmeg and cinnamon, like honey, supports healthy immune systems which could be beneficial for Caribbean spice producers.
Similarly, the nutraceuticals industry which is projected to experience growth to approximately $317.3 billion USD by 2024 also offers opportunities.[5] The region has successfully demonstrated its competence to excel in this sector as evidenced through experts like entrepreneur Dr. Henry Lowe (Flavocure Biotech) who has several US patents based on his research into high value health solutions using indigenous plants.
Film & Music
For firms in the creative industries, global trends are in their favour. Although faced with significant revenue declines due to cancellation of live performances and screenings, the increased interest in online consumption for both music and film is a positive note-worthy trend. Globally, audio-visual streaming increased by 14.5% during early March when several countries began their lock downs.[6] Netflix has seen their subscription rate more than double – moving from its forecast of 7 million new paid subscribers for Q1 to 15.8 million. [7]Membership on Twitch has also grown by 31% as has digital radio services, e.g. BBC's radio streaming increased by 18%. [8]With more persons confined to their homes and the mental health benefits that music and film brings, Caribbean producers can use this time to share their content, expand their following and connect with diverse audiences on interactive platforms. Recently the first reggae Verzuz battle between Beenie Man and Bounty Killer on Instagram Live recorded close to 500,000 live viewers and a suite of A-list celebrities tuned in to watch. Similarly, a Los Angeles based DJ, @dnice hosted a DJ party in his kitchen with over 100,000 live viewers including Ellen Degeneres, Oprah, and Michelle Obama. This event increased his following from 200,000 to its current 1.8 million followers.[9]
How to find the opportunities
The opportunities available will be different depending on your own situation. Here are three strategies outlined by the MIT Sloan Management Review to help you identify yours:
1. Same Product Different Channel (Online): You may want to digitise your product or deliver your service online just like the example of DJ @dnice or the reggae challenge shared above. Nike has begun to engage customers with online workouts resulting in a 35% upshot in sales[10] while companies in Napa Valley are offering online taste testing lessons. What would applying this strategy look like for your company? If regional agro-processors offered an online cooking experience using their products, they could drive sales during or after the online event. The opportunities to offer virtual services or events to customers are endless and just takes a little imagination.
2. Same Infrastructure Different Product: While the pandemic has brought some businesses (E.g. hotels and guest houses) to a standstill, others have experienced an increase in demand. Can your company re-purpose your existing infrastructure to produce or sell high demand products and services? In Barbados, some hardware stores have begun to sell groceries. With many parents balancing remote work and home-schooling, some guest houses in Jamaica have offered their rooms to those who want a few hours of uninterrupted work time. So how can you offer a new product or service to customers using your existing arrangement?
3. Same Product Different Infrastructure: Some firms may find themselves with the problem of struggling to meet the demand for their products and services and need to increase production or distribution capacity. Globally, firms have sought to bridge the gap through creative partnerships. To meet the spike in online shopping demand, Amazon has partnered with Lyft to temporarily hire workers as the demand for ride share has plummeted. With increased unemployment, firms now have a larger labour pool to train and deploy even if temporarily. During this period of uncertainty, adopt a proactive approach. Assess market changes to adjust your products, services, and strategies to meet current and future customer needs. What will you need to do differently to take advantage of some of the emerging opportunities and how can you apply the strategies shared to mitigate the effects of Covid-19 on your business?
---
[1] https://finance.yahoo.com/news/clorox-has-seen-500-increases-in-demand-during-the-covid-19-pandemic-ceo-132530052.html
[2] https://www.uschamber.com/co/start/strategy/pandemic-business-trends-that-are-here-to-stay
[3] https://www.fool.com/investing/2020/04/01/amazon-partners-with-lyft-to-deliver-packages-and.aspx
[4] https://www.forbes.com/sites/daphneewingchow/2019/05/14/there-is-a-growing-market-for-nutraceuticals-in-integrated-cancer-treatment-in-the-caribbean/#6eb7c4c3204b
[5] https://www.globenewswire.com/news-release/2018/06/25/1528968/0/en/Global-Nutraceuticals-Market-Will-Reach-USD-317-3-Billion-by-2024-Zion-Market-Research.html
[6] https://www.twobirds.com/en/news/articles/2020/global/covid-19-the-music-shuffle
[7] https://www.theverge.com/2020/4/21/21229587/netflix-earnings-coronavirus-pandemic-streaming-entertainment
[8] https://www.twobirds.com/en/news/articles/2020/global/covid-19-the-music-shuffle
[9] http://www.jamaicaobserver.com/business-report/industries-that-will-boom-provide-the-most-opportunities-post-covid–19_191136?profile=1056
[10] https://sloanreview.mit.edu/article/three-proactive-response-strategies-to-covid-19-business-challenges/