Details
The EU-LAC Digital Accelerator is a multi-sided platform that connects business opportunities from corporates to startups and innovative SMEs. Our objective is to support joint ventures (EU-LAC Partnerships) until an investment-ready stage and provide specific acceleration services to each of them.
Caribbean Export Development Agency (Caribbean Export), in collaboration with a consortium of European and Latin American partners, is currently implementing the Programme funded by the European Union, and at this stage are calling corporates and large organisations to identify and submit challenges on ¨Smart Production¨ to unlock the digital potential of Latin America and the Caribbean.
Corporates established in LAC regions, with challenges in the digital sphere, seeking innovative solutions from entrepreneurs and startups can apply to our Call for Challenges on the EU-LAC Digital Accelerator platform.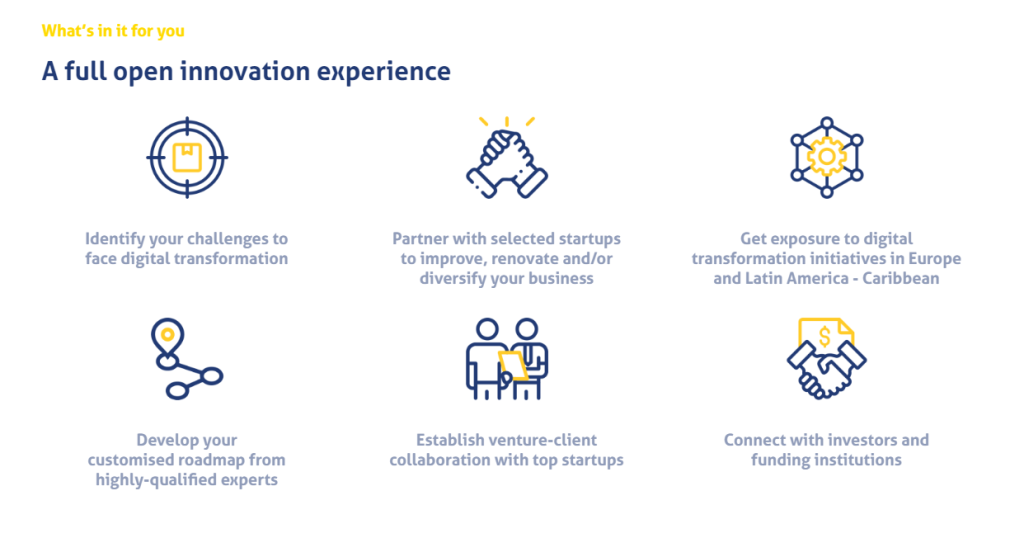 TO SUBMIT YOUR CHALLENGE PLEASE CLICK HERE!
Deadline for submissions of challenges is November 30th, 2023
Our team is available to meet with you to discuss how your participation in the EU-LAC Digital Accelerator can result in the digital transformation of your business.
Please contact us at [email protected]
Contact: