Natural products and ingredients were in high demand before the COVID-19 global health crisis, but the pandemic has added impetus to the market with consumers looking for healthy items that are also as pure as possible.
Research shows that the global natural food and drinks market was valued at $120 million in 2020, and is projected to reach $361 million by 2031, a compound average growth rate of 11.44% from 2022 to 2031.
The word 'natural' has several connotations, but according to a global study conducted by Ipsos in 2018, the three most common associations which consumers make when they see the term on labels are:
1. Healthy.
2. No artificial ingredients.
3. 100% from nature.
Consumers expect natural products to be good for them, minimally processed, and free of artificial colours, sweeteners, flavours, and additives.
Considering the continued push for healthy and natural products is likely to only get stronger, food distributors are always searching for partners who can supply food and drink that tastes and looks good and, as a bonus, are cultivated with an environmentally friendly approach.
In addition, if the supplier has an impactful story to go along with their offering, this element also enhances the marketability of the product, and convinces consumers that what they are eating or drinking is not only beneficial to them, but also of benefit to the people producing it.
In the Caribbean, local producers regularly use indigenous fruits, herbs, and spices in handmade skincare and haircare items, as well as food and drink.
Caribbean 'superfoods' are combined with handed down, generational recipes to make jellies, teas, sauces, and jams etc that are bursting with flavour and accompanied by a background and history that cannot be copied or replicated.
St Kitts-based company, Sugar Town Organics, is a shining example of a micro enterprise that combines the Caribbean's natural bounty with sustainable practices and a powerful origin story.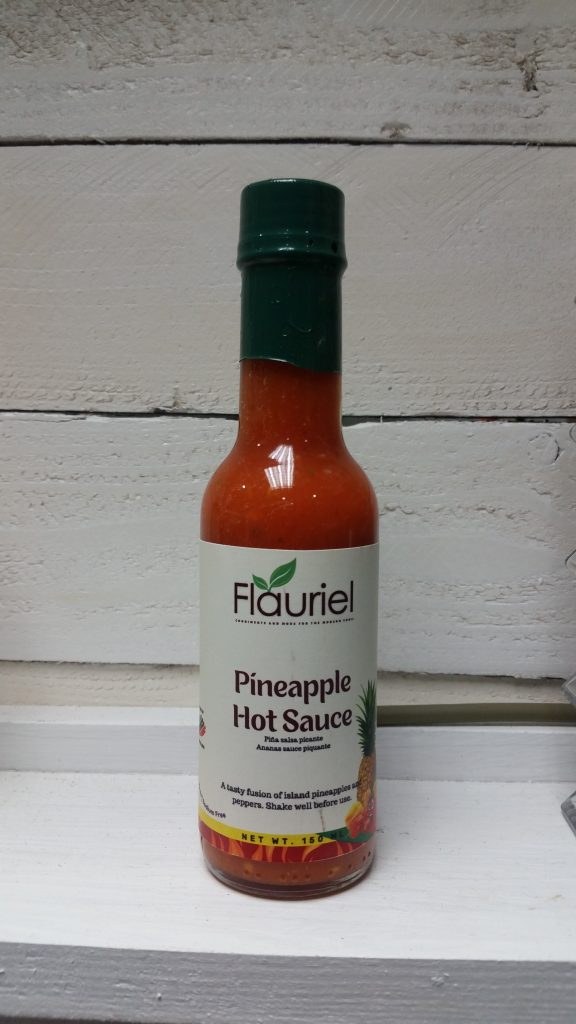 Established by female entrepreneur Anastasha Elliott, the idea for the botanical business came about when her mother Myrtrice was diagnosed with cervical cancer.
Mrytrice was told that she had just four months to live but she decided to fight the illness using a holistic approach. She transformed her eating and lifestyle habits and was declared cancer-free shortly afterwards.
Anastasha saw how her mother used the power of nature to help her recovery, and wanted to share what the family had learned, along with what generations before had already taught them through traditional recipes for soaps, shampoos, oils, sauces, and butters.
Flauriel was established under the 'Sugar Town Organics' umbrella as a vegan food brand which pays tribute to Caribbean agriculture and ancestorial practices.
Anastasha harvests a vast majority of the fruits in her products, along with medicinal herbs and spices, from a mini farm in the backyard of her home, and she also works with local, organic farmers in her country and across the region to source a wider variety of raw materials.
Anastasha's degree in culinary arts enables her to formulate dairy-free and sodium-free jellies, wines, teas, jams, cheeses, sauces, and syrups which are nutrient dense and have a long shelf life. Some of the ingredients used in Flauriel's products include coconut, hibiscus, mango, sorrel, soursop, avocado, guava, and ginger.
Every single product is methodically handcrafted by Anastasha and her small team using long-held extraction, blending, mixing, and infusion techniques.
Speaking about starting her brand, Anastasha said: "I looked at how, in the Caribbean, we use food to maintain our health, beauty and families, and to heal from disease. Our brands are therefore very food centric, and very Caribbean, of course with cultural influences that both affected the Caribbean and play a role in the geographical origin of my family."
Flauriel's full range of offerings will be available at the upcoming Speciality & Fine Food Fair from September 5th-6th 2022 at Olympia, London. Anastasha will be part of a group of the Absolutely Caribbean pavilion comprising of small business owners supported by the Caribbean Export Development Agency and the European Union.
The Fair showcases emerging and established brands within the artisan, fine food and drink industry and is a treasure trove for innovative and inspiring products as well as emerging trends.
Flauriel's range will fit right in with over 700 other food and drink suppliers from around the world who are at the forefront of some of the world's major food trends. But the background story of Anastasha's company, along with Flauriel's unique use of flavourful Caribbean-grown fruits, herbs, and spices, will make her products different from everyone else.