Unique hand-painted pieces, drawings reproduced on clothing or beach accessories, stencils, silkscreens print or dyes, SANDILOU has developed a very original, "Made in Haiti", resort wear garment collection that is just waiting to be exported! And this is what Caribbean Export wants to help make happen…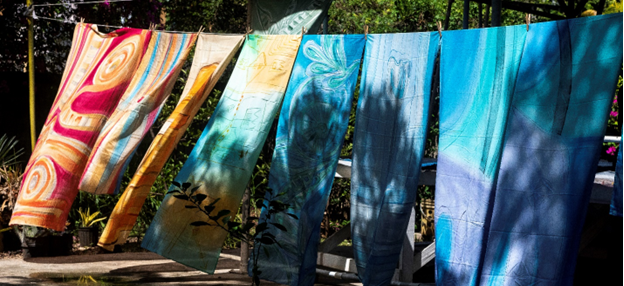 Under the arbor of SANDILOU's workshop in Delmas 64, in the Port-au-Prince greater metropolitan area, the shimmering colors of the scarves and dyed fabrics flutter in the breeze. They will then be washed and dried in the sun, before being embellished and sewn.
In this large garden, which is home to a hundred-year-old tree, the team members are concentrated on their tasks: some paint the backgrounds with dyes, others add outlines with brushes on dyed fabric canvases stretched on frames. Here they paint freehand and without pre-established drawing, on natural fabrics such as cotton, linen or rayon, using special fabric paints.
Sandra Russo shares her inspiration for a collection with her team of artists (which is very family oriented: several family generations paint or sew). It is up to the team to interpret the idea on canvas…. "I decide which tone and colors to be used and everyone has free reign to deliver a different piece… that's the beauty of unique handmade pieces," she says cheerfully. And that is the essence of this small Haitian brand that wants to grow!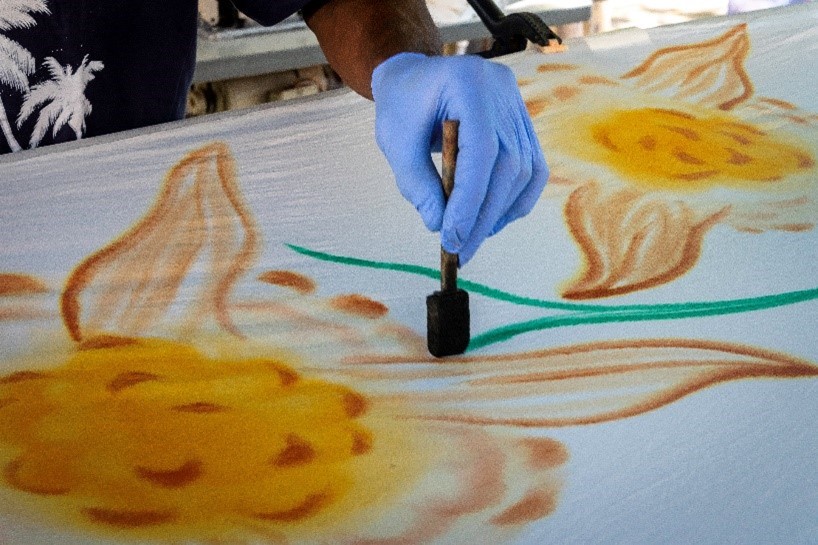 In 2012, Sandra Russo registered SANDILOU as a "textile handicrafts" company. A very specific classification, obtained thanks to her determination and which allows her to operate within the taxes and transport rates bracket set forth for the handicraft industry and not the textile industry.
She has been immersed in the painting and art world since childhood. "I was surrounded by women painters, starting with my mother, I grew up surrounded by artists. This led me to pursue painting, and then to SANDILOU. For the record, this name is the combination of my nickname and that of my sister… given by a family member who could never tell us apart, so he combined us into a single nickname…", she concludes with a laugh. The small brand reflects the owner's upbringing: it offers its pictorial art on several textile materials, a whole range of beach clothing and accessories, leisure-type garments, and also home goods such as tablecloths and a collection of cushions, each more colorful than the other. Many different techniques are used: tie-dye, stencils, silkscreen printing, airbrushing, printing… All of this contributes to making SANDILOU's collections very original and unique works of art hand-painted on scarves (their best sellers) or reproduced on beach towels and cushions.
When original accessories and garments are produced on an island, the challenge is to export them. For SANDILOU, as for many Haitian designers, the local market is always a useful laboratory for testing products, but only export can guarantee real growth. It is through this lens, and in particular to encourage a connection with the Dominican Republic (DR) market that Caribbean Export, through a program funded by the trade and private sector support component of the bi-national HT-RD program within the framework of the 11th European Development Fund (EDF) of the European Union, has tried, for several years, to guide and assist the value chain of handicrafts companies, including SANDILOU. COVID 19 slowed down these plans, but the meetings finally came to fruition through the virtual presentation of several Haitian companies to potential buyers from the neighboring country. The meeting with the Jenny Polanco company allowed SANDILOU to present its samples to a brand that is already well established in the DR. Sandra Russo also worked on the Symbiose project, another program initiated by Caribbean Export, which brought together the two countries on a jewelry design training course, to dress the models who will present these works during an exhibition that should take place in 2022.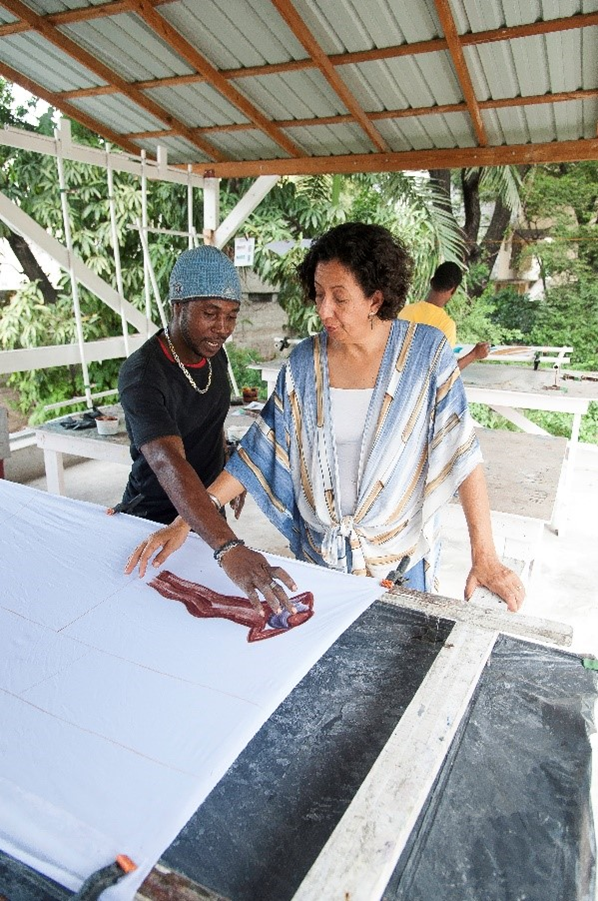 While waiting for opportunities to materialize on this side of the island, SANDILOU is working on its website and marketing tools, thanks to a direct grant obtained from the Caribbean Export's Private Sector Development Support Program. "We have produced a short video and website ourselves and will improve or develop more relevant and up-to-date marketing and communication tools to tackle the market. With kaftans, scarves, beach dresses and colorful towels, our collection is really a typical resort-wear and leisure style product, and the Caribbean is one of the regions most receptive to this type of product. However, this market has changed drastically due to COVID-19: some resorts and stores have disappeared, and others are emerging," explains Sandra Russo, convinced that the real challenge today is to conquer these new players.
The Caribbean is an essential market, the Dominican Republic remains to be explored, especially in its resorts and hotels component, and in the United States, museum shops and marketplaces already offer interesting opportunities. SANDILOU has just created a collection that will be presented this summer at the Smithsonian Institution's "Artisan Marketplace". Sandra recalls with nostalgia the fairs which used to be held throughout the Caribbean islands until the arrival of COVID-19: "This is the real meeting place for buyers and artisans. Some things are done online, but us islanders we need the human touch, we need to feel the materials, to meet in the flesh…to know who we are dealing with" So the main challenge for the Haitian small business in 2022 will be to find ways to present its collections and penetrate markets. With a collection of approximately 2,000 to 3,000 original designs in its inventory, SANDILOU will not be short of inspiration and is ready to take up the challenge!